In Russia, a photo project "Temporarily homeless" was released about people who find themselves in a difficult life situation and animals that find themselves on the street due to the irresponsibility of their past owners. Last week we showed five powerful stories that make you think . On this one, we are releasing the second part of touching and kind photos.
The photo project was created by the Yuna Center for the Rehabilitation of Temporarily Homeless Animals and the Nebomzhivy Regional Public Charitable Organization , which helps homeless people. Separate pictures of animals were taken outside the scope of the project – but just look at how animals and people bloom next to each other
Sergei Kuchmai and Pink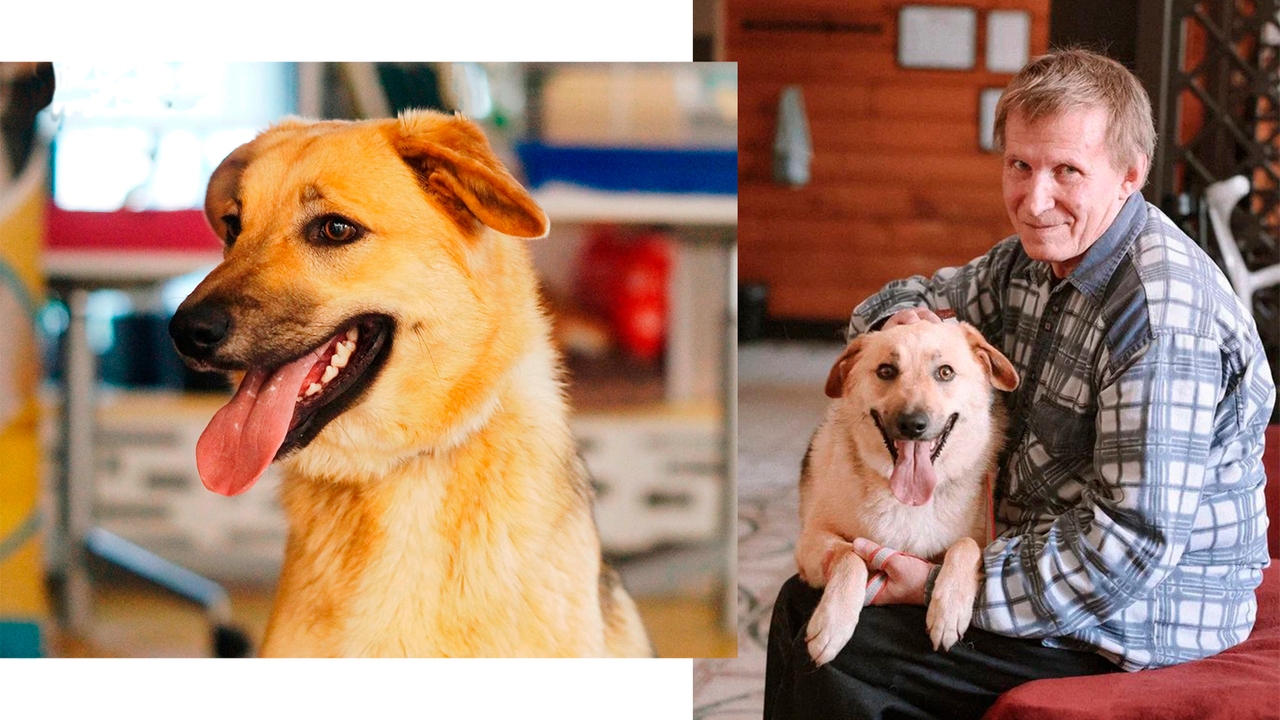 Pink is a loyal dog (source: Yuna Animal Rehabilitation Center)
Sergey's brother evicted him from the apartment – he handed him over to the doctors in order to take possession of the apartment. The man wandered around the doss-houses for a long time, and ate in the Mercy tent. He came to the shelter from the street. At first, Sergey was able to work, but now dementia is already developing. He is responsible for watering the flower beds and beds.
Pink is a groovy dog, but with an obedient disposition. She is playful, loyal and runs around with her tail in anticipation of love and attention.
Alexander Predachin and Sheila
Grandpa Sasha loves cats more than dogs (source: Yuna Animal Rehabilitation Center)
Alexander Stepanovich once left home himself, considering himself superfluous, it was crowded with his sister's family. The man receives a pension and sends most of it to his sister, because she is lying down, and buys treats for the rest of the shelter residents. Alexander draws well, but he has never been a professional artist. In the shelter they call him grandfather Sasha.
Sheila is an unpredictable and sweet cat. She can lie quietly, and in a moment play with relatives. Sheila is sweet and kind.
Vladimir Dmitriev and Bro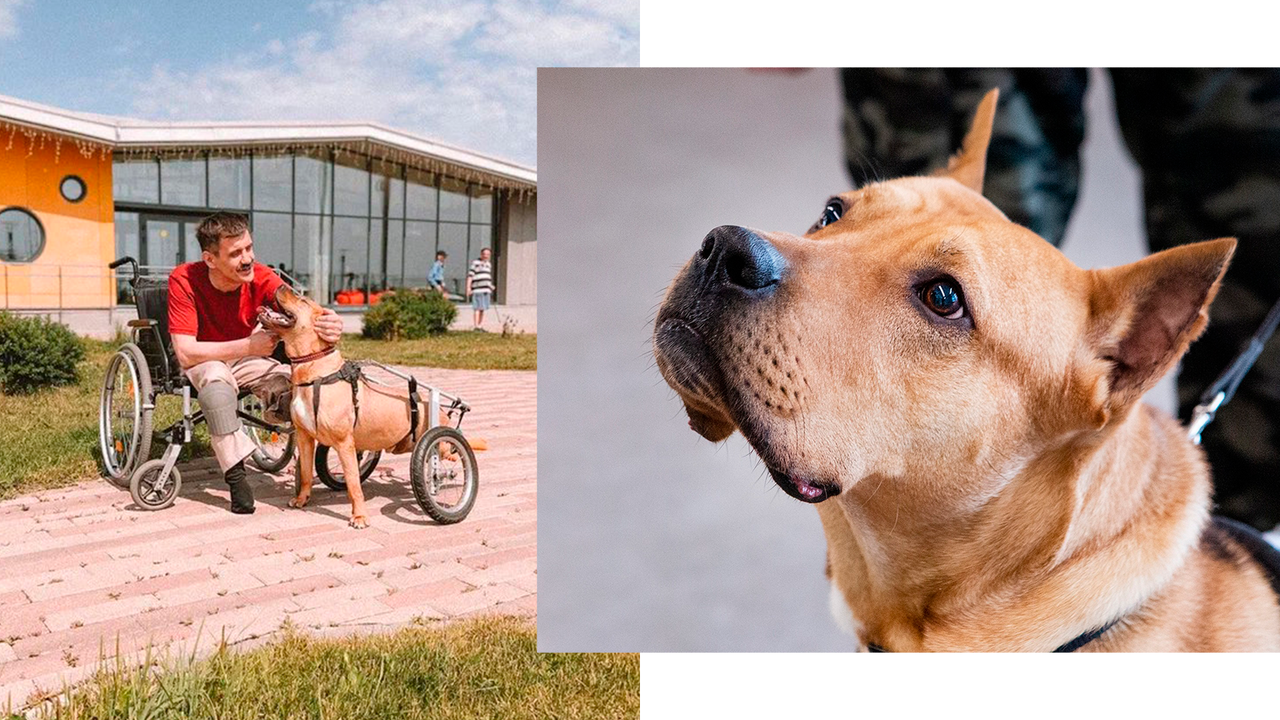 Look like a real Bro (source: https://vk.com/yunacenter)
Vladimir is called the most capricious ward of the shelter. Previously, he was a businessman and traveled abroad, but he cannot say for sure how he ended up on the street. Lost his legs there.
It is difficult for a man to accept help, but he works with psychologists and continues rehabilitation. At the beginning of summer, Vladimir had the first fitting of prostheses. After a trip to the animals in Yuna, the man seemed to become softer, more trusting. It turned out that he loved dogs since childhood.
A dog named Bro was hit by a car and now walks with a stroller. This does not prevent him from enjoying life and playing. He loves to communicate with others and make new acquaintances.
Vladimir Dmitriev and Jack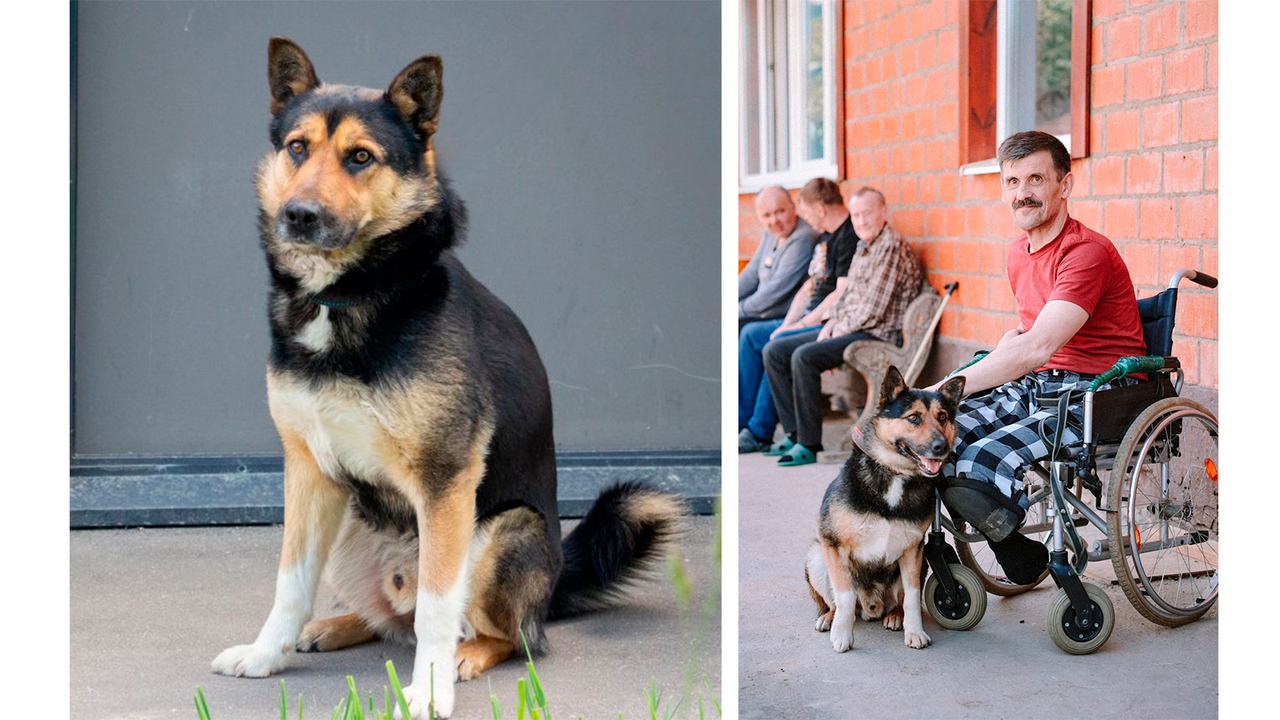 Closed Vladimir blossomed next to the animals (source: Nebomzhivy)
Volodya enjoyed talking with the dogs at Yuna so much that he decided to get acquainted with another ward of the shelter – Jack. Usually Vladimir is reserved and unsociable, but at the sight of Jack, a smile bloomed on his face.
Jack is a well-mannered, serious and calm dog. At the same time, Jack is not against the fun and never misses the opportunity to get a treat, demonstrating his skills.
Vladimir Maksimov and Thunder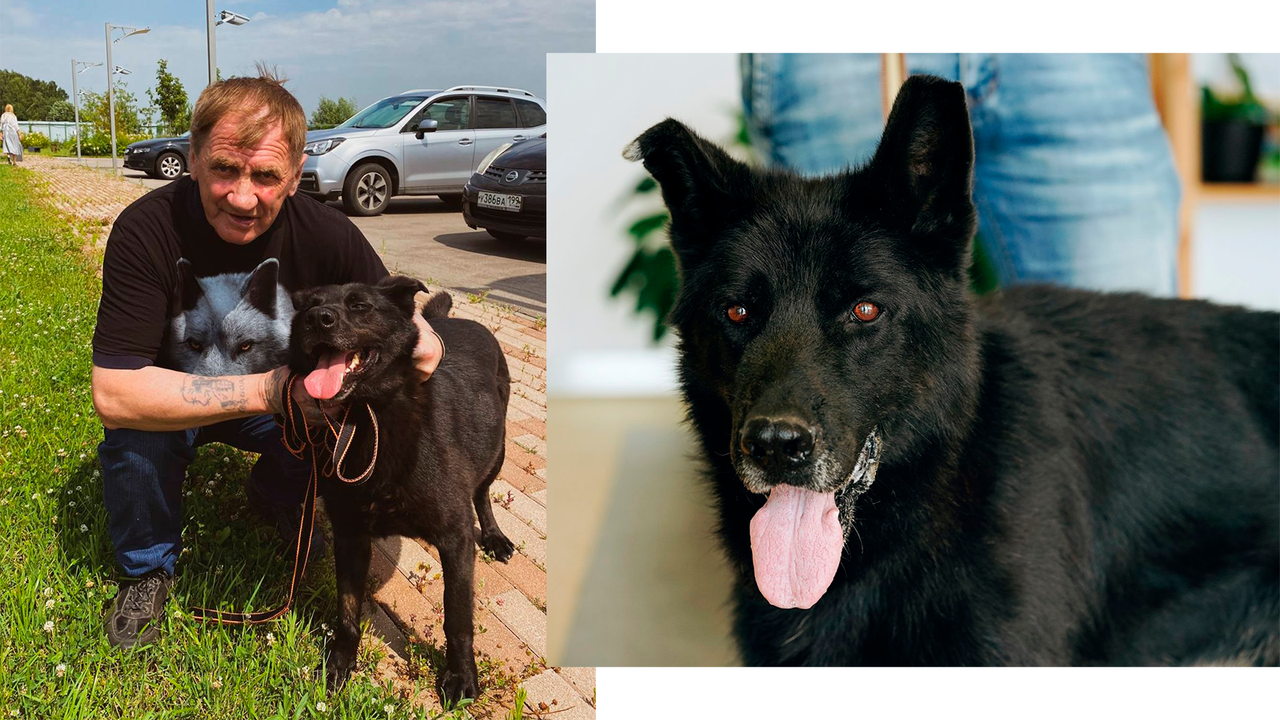 Thunder fell in love at first sight (source: Nebomzhivy)
Volodya in the 90s rewrote a room in a communal apartment for strangers – and was left without an apartment. Then he received his first suspended sentence. Further – the loss of documents and repeated convictions. He spent a total of 20 years in prison.
The first year in the shelter, he behaved unfriendly and refused rehabilitation. Soon the man changed – he became more open, helps in the affairs of the shelter and regularly goes to feed.
Arriving at Yuna, Volodya volunteered to walk the dogs and quickly found a common language with the animals. There, he liked Thunder, and the man did not want to act with anyone else.
Thunder is an active, intelligent and courageous dog. It has the blood of a real German Shepherd. He loves to be among people and follow commands for snacks.
Source credit: https://pets.mail.ru/