𝘐𝘯 𝘵𝘩𝘦 𝘴𝘵𝘳𝘦𝘦𝘵𝘴 𝘰𝘧 𝘊𝘩𝘦𝘧𝘤𝘩𝘢𝘶𝘦𝘯, 𝘔𝘰𝘳𝘰𝘤𝘤𝘰, 𝘢 𝘭𝘪𝘵𝘵𝘭𝘦 𝘱𝘶𝘱𝘱𝘺 𝘸𝘢𝘴 𝘴𝘦𝘦𝘯 𝘣𝘺 𝘢 𝘨𝘳𝘰𝘶𝘱 𝘰𝘧 𝘬𝘪𝘯𝘥-𝘩𝘦𝘢𝘳𝘵𝘦𝘥 𝘧𝘰𝘭𝘬𝘴. 𝘛𝘩𝘦 𝘱𝘶𝘱𝘱𝘺 𝘦𝘹𝘱𝘦𝘳𝘪𝘦𝘯𝘤𝘦𝘥 𝘢 𝘮𝘢𝘴𝘴𝘪𝘷𝘦 𝘨𝘳𝘰𝘸𝘵𝘩 𝘢𝘵 𝘩𝘪𝘴 𝘺𝘰𝘶𝘯𝘨 𝘢𝘨𝘦, 𝘢𝘯𝘥 𝘪𝘵 𝘸𝘢𝘴 𝘶𝘯𝘬𝘯𝘰𝘸𝘯 𝘸𝘩𝘢𝘵 𝘤𝘢𝘶𝘴𝘦𝘥 𝘪𝘵. 𝘛𝘩𝘦𝘺 𝘲𝘶𝘪𝘤𝘬𝘭𝘺 𝘵𝘰𝘰𝘬 𝘵𝘩𝘦 𝘱𝘶𝘱𝘱𝘺 𝘪𝘯𝘵𝘰 𝘵𝘩𝘦𝘪𝘳 𝘤𝘢𝘳𝘦 𝘢𝘯𝘥 𝘯𝘢𝘮𝘦𝘥 𝘩𝘪𝘮 𝘕𝘢𝘷𝘢𝘫𝘰.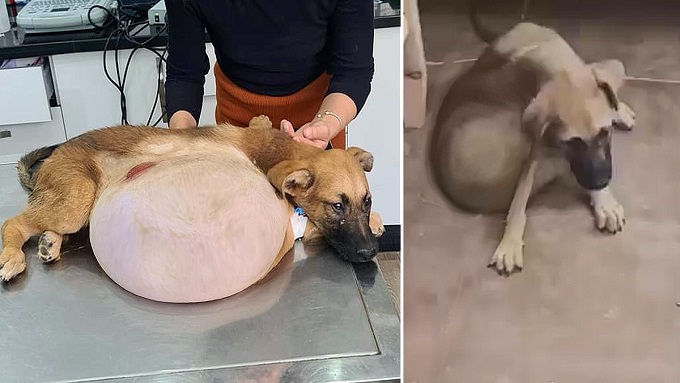 Despite being a happy and open little child, Navajo was suffering from diarrhea and refused to eat. He was kept in isolation, and his rescuers were frightened that he could have caught the deadly parvo virus, which is a frequent ailment among stray puppies in Morocco.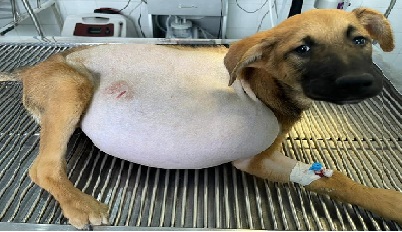 Determined to save Navajo's life, the rescuers traveled hundreds of miles at 4am to get him to a veterinarian. It was revealed that Navajo had a hernia, most likely caused by a strong kick, and that the growth was a result of substantial stress.

The procedure was long and hazardous, but the doctor and his colleagues were able to correct Navajo's hernia and give him a chance to survive.
Navajo had a significant chance of catching the parvo virus, but his rescuers were determined to give him the care and love he needed. They treated him with medications and loving hands for several weeks, and Navajo proved to be a little fighter.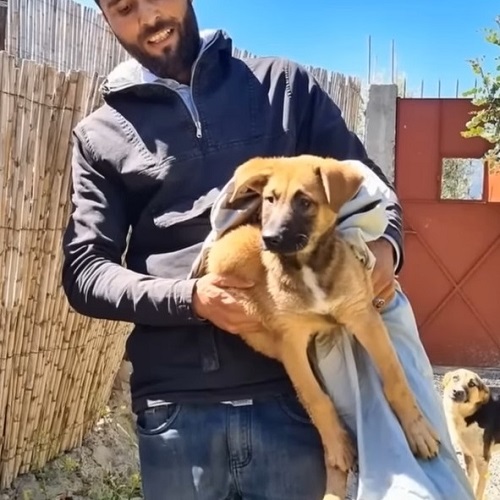 Forty days later, Navajo was a changed puppy. He was healthy, happy, and confident, with only a scar reminding his rescuers of the hardship he had gone through. Navajo's rescuers were thrilled with his growth and wanted to locate him a loving home where he could live the life he never had.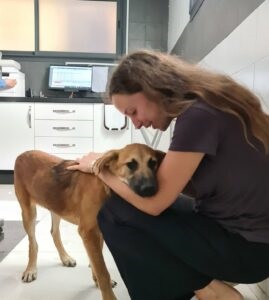 If you're interested in adopting Navajo and providing him the love and care he deserves, you may send an email to [email protected]. Navajo's story is a tribute to the resiliency of animals and the power of love and compassion.
Please LIKE and SHARE this story to your friends and family!
Source credit: http://www.dogfull.com/2023/05/blog-post_77.html